Fractal is celebrating already 25th Anniversary !
Our Travel Agency Fractal s.r.o. celebrating its 25th anniversray, and we want to share this special occasion with our loyal customers and partners. Since 1995 we have been bringing you professional care for your travel needs and every year we are growing as a company and improving o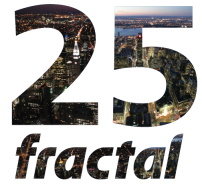 ur services. As a Family company, we have come a long way in a quarter of a century, and we hope that many more successful years will be ahead of us.
We are also grateful to our clients and customers who trusted in us to help them and provide the best products. Without you, our loyal clients and partners, none of this would be possible.
In recognition of this special 25th Anniversary, we will provide you with some gifts to show you our appreciation. Throughout the year, we will organize for you some exiting competitions, interesting social events, cultural and sports activities in which you will be more than welcome to participate, and we would love to see you there.
To help you making right choice when choosing activity, our special events and activities will be symbolic with # 25 throughout the year. Just like the 25 beautiful years, which you gave us with your confidence when traveling at home and abroad.
Thank very much for all your support for past 25years, and making Fractal s.r.o. a reputable known company for its first quarter of the Centrury, and for many more decades to come.